Oil price Brent/WTI: No negative signals so far
NO STRONGLY NEGATIVE SIGNALS FROM THE DATA SO FAR
The oil price may also benefit from the positive vaccine news for the time being. Data on US stocks and OPEC production at least did not provide any excessively negative impulses. The EIA estimated a reduction in stored oil as of last week, which was well above expectations.
This confirmed the API report from the previous day. However, stocks in the important Cushing warehouse fell less sharply, and petrol stocks also rose for the first time in a long time. US production was unchanged at 11 million barrels per day compared to the previous week. However, it had previously risen from 10.5 million.
Initial data on OPEC compliance as of June have also been reported slowly. In total, this was 107% as of Tuesday, which means that the total OPEC production cuts were higher than agreed in the deal. Nevertheless, the higher compliance is largely due to Saudi Arabia, Kuwait and the Arab Emirates.
For July, Saudi Arabia has already announced that it will no longer make cuts above the agreed levels. Then it will be up to the other countries that have so far failed to achieve at least 100%, such as Nigeria and Iraq.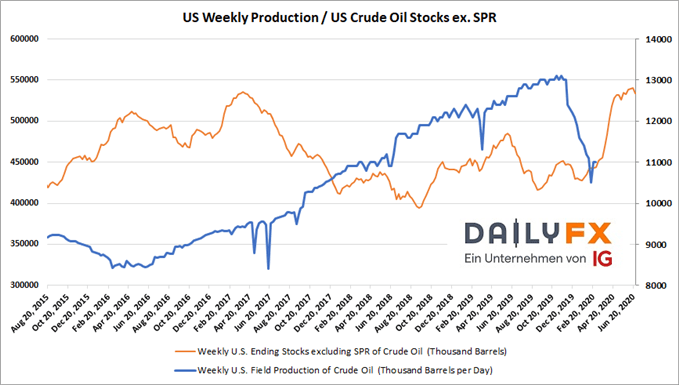 OIL PRICE WTI CHART TECHNICAL
From a chart perspective, the oil price of WTI remains stable but trapped within a range. The 42 USD resistance level should not be easy to overcome. However, if negative impulses are absent, a renewed attack on the resistance could take place. On the downside, the price zone at USD 36 per barrel should continue to provide support. Below that level, the situation becomes more critical and the USD 32 per barrel price zone could be headed for.