Stocks stay flat despite Coronavirus Vaccine hopes
The Dow Jones Industrial Average was drifting between slight gains and losses as investors weighed encouraging vaccine news against a mixed bag of employment data and signs of a continued resurgence in coronavirus cases.
Pfizer (ticker: PFE) and biotech partner BioNTech (BNTX) announced positive trial results from a coronavirus vaccine. The companies pointed to possible efficacy of the vaccines in trial data that involved 45 patients. Concerns about the virus' spread in reopened states dragged stocks lower in early Wednesday morning trading, as New York City decided not to move forward with a plan to allow indoor restaurant dining.
In afternoon trading the Dow was up two points, or little changed, at 25,815. The S&P 500 was up 0.5%, and the Nasdaq Composite was up 0.7%.
Defensive sectors led gains in the S&P 500, as investors wait for data to provide a clearer picture of U.S. economic growth. The communications, real-estate and utilities sectors posted the biggest gains in the index, rising 1.8%, 2% and 1.9%, respectively.
Automatic Data Processing reported that 2.369 million jobs were added in June, fewer than the 2.9 million jobs the report was expected to show. But the payroll-processing company also said that 3 million jobs were added in May—a reversal from the loss of 2.76 million positions it had originally reported.
The ADP numbers come before government data due out Thursday that is expected to show a gain of 3 million nonfarm jobs. That is after a surprising gain of 2.5 million jobs in May.
"Looking ahead, it is all about tomorrow's jobless claims and employment report. At least in the short-run. If we can show some real progress in both unemployment and employment, then we can say we have turned at least the first corner of the recovery," wrote Kevin Giddis, chief fixed-income strategist at Raymond James, in a Wednesday note.
The Dow and S&P 500 closed out the second quarter with their best performances in more than 20 years, but those gains followed severe first-quarter losses prompted by the pandemic.
"While the newspapers are full of a very impressive stock market recovery last quarter, the fact is, the gains came off of stocks rising from the ashes as the Fed took giant steps and continues to provide liquidity," said Peter Cardillo, chief market economist at Spartan Capital, in note to clients.
Investors will be keeping an eye on U.S. coronavirus outbreaks after Dr. Anthony Fauci, director of the National Institute of Allergy and Infectious Diseases, warned in Senate testimony on Tuesday that U.S. infections could reach 100,000 a day from a current level of 35,000.
In Europe, the Stoxx 600 index closed with a 0.2% gain, partly supported by news that the final eurozone manufacturing purchasing managers index for June rose to 47.4, from a previous estimate of 46.9 and May's level of 39.4, according to IHS Markit.
In Asia, the China CSI 300 index jumped 2% after the Caixin China manufacturing PMI climbed to a six-month high of 51.2 in June from 50.7 in May.SlippingFutures on the Dow.Source: FactSetNote: E-Mini continuous contract.As of July 1, 2:20 p.m. ETJune 28July24,50024,75025,00025,25025,50025,75026,000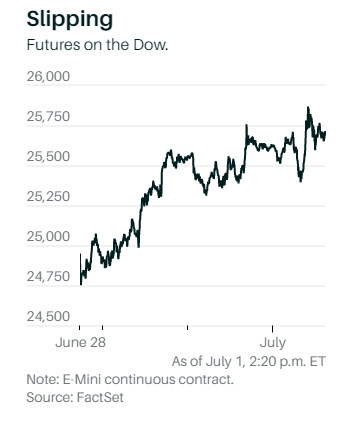 Macy's (ticker: M) shares were down 3.1% after the department-store chain reported a loss of $3.6 billion, or an adjusted loss of $2.03 per share, for its fiscal first quarter, matching previous guidance, due to shutdowns spurred by the coronavirus pandemic.
FedEx (FDX) soared 12.5% after reporting fiscal fourth-quarter results after Tuesday's close. The shipping company has seen a surge in demand because stay-at-home orders have forced, or encouraged, people to shop online. It was the strongest performer in the S&P 500 in afternoon trading.
Beyond Meat (BYND) saw its shares pop 5.3% after the plant-based meat company announced that it will sell its food in stores operated by Alibaba Group Holding (BABA) in China. Beyond Meat has been on a tear recently, after previously announcing agreements to sell its food to Starbucks (SBUX), KFC, Pizza Hut, and Taco Bell restaurants in China.
Constellation Brands (STZ) rose 7.1% after reporting higher adjusted earnings per share than Wall Street analysts expected. The company, which sells Corona beer, said its hard seltzer brand has become the fourth most popular in the U.S. after its launch of the product earlier this year.