Bear market in sight – turnaround still possible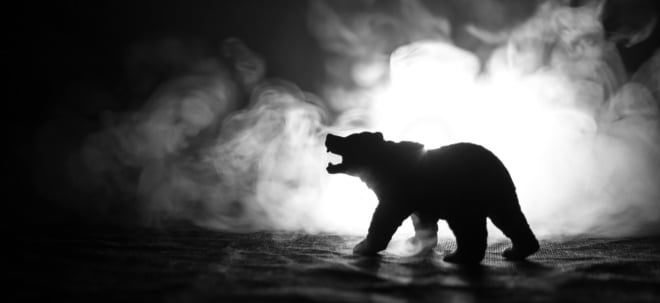 Bears are lurking
According to Simon Maierhofer of MarketWatch, the S&P 500 is showing a pattern of massive bearish potential. The high of 8 June at 3,233.13 points was below the high of 19 February at 3,393.52 points. Furthermore, the high of 16th June at 3,393.52 points was below that of 8th June. Similar patterns were found for the Dow Jones and the Russell 2000. The NASDAQ Composite and the NASDAQ 100 in turn have exceeded their February highs and are not applied to this pattern of lower highs, Maierhofer said. According to the Elliott wave principle, this phenomenon is called a potential 1-2 setup, he continued. Elliott waves are a theory of recurring wave patterns that take into account psychological aspects of buyer behavior, with wave 3 being the strongest of a 3- or 5-wave sequence. In wave 1 there is a low and in wave 2 there is a high. Meanwhile, wave 3 announces an imminent low. According to Maierhofer, the theory should be treated with caution because it is shaped by interpretations and prejudices of the interpreter, but if you use it responsibly, you can gain insights that no other tool can offer you.
Possible reversal in the market
Should the price move above the high of 3,233.13 points on 8 June in the future, the declining 1-2 setup would not prove true, so that the difference between the high of 19 February and the high of 16 June could be overcome, Maierhofer said. Looking at the trend line resistance of 2008, the high of 8th June could also mean a declining island reversal. In this case, the S&P 500 should not close above this line of around 3,180. Should the price move below 3,100 points, however, this would validate the 1-2 setup. Apple and Amazon stocks, the largest components of the SPDR S&P 500 ETF and Invesco QQQ Trust, also allow a retreat from this pattern. This is still likely to happen if Apple does not manage to get above a value of about USD 360 and Amazon falls below USD 2,620.
Put-Call ratio shows bullish tendency
On 10 June, the 20-day moving average of the Chicago Board Options Exchange (CBOE) put call ratio fell below 0.5, Maierhofer said. This meant that options traders had bought more calls than puts for 20 days, which meant that bull strategies rather than bearish ones had been used. This is rather rare: Thus he referred to periods from 2004 onwards in which the put-call ratio was also below 0.51. In these cases the average return for the S&P 500 was negative for the next three months, the chance of a positive return two months later was 43 percent. In the last six months, he had analysed more than 300 studies, with more recent short-term weaknesses predicted in particular. However, a bearish pattern cannot be denied if the S&P 500 remains below the resistance lines of both 3,235 and 3,180 points.